Kim named world bank president as Okonjo Iweala bows out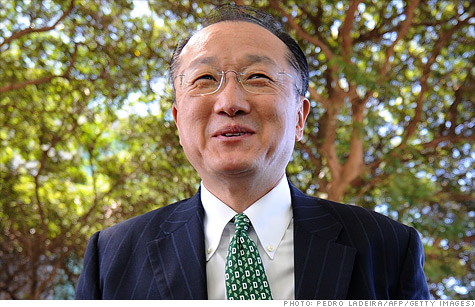 Dr, Jim Yong Kim has been named the new President of the World Bank, a position that was strongly contested by our very own
Ngozi Okonjo-Iweala.
Continue to read after the cut...
It was obvious that Jim was going to be named the new president since the US and EU has roughly 50% of the shares which are based on the money paid into the bank.
Throughout its more-than-60-year history, the bank has been led by an American, part of a tacit agreement between the United States and its Western European allies. Europe, in turn, has maintained control of the top spot at the bank's sister organization, the International Monetary Fund.
God bless Nigeria o! Okonjo na strong woman jare!!
Share with friends on facebook and twitter. Abeg you can still like us on facebook by clicking on the facebook 'like' button to your right. Better still, go to www.facebook.com/mridontryblogs. Also on twitter @mridontry_lego