Bill Gates tops list of Forbes richest in America; 19th time in a row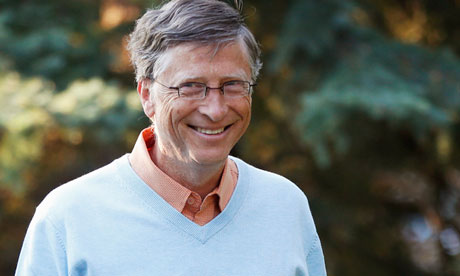 Bill Gates
The top three American billionaires in this year's Forbes have a combined age of 206.
1.
Bill Gates
, 56 - $66bn ($7bn more than what he was worth last year)
2. Warren Buffett, 82 - $46bn
3. Oracle's Larry Ellison, 68, - $41bn.
4. Charles Koch, Wichita, Kan., $31 billion
5. David Koch, New York City, $31 billion
6. Christy Walton & family, Jackson, Wyo., $27.9 billion
7. Jim Walton, Bentonville, Ark., $26.8 billion
8. Alice Walton, Fort Worth, Texas, $26.3 billion
9. S. Robson Walton, Bentonville, Ark., $26.1 billion
10. Michael Bloomberg, New York City, $25 billion
This happens to be Bill Gates 19th year in a row at the top. Mark Zuckerberg of Facebook, the social media moguls lost a combined $11bn in one year, according to Forbes, he happens to be the biggest loser. His net worth has dropped $8.1bn, more than anyone in the list this year, and which prompted a fall from 14th place to 36th.
The 28-year-old is not poor but now worth $9.4bn, the same as News Corp chairman Rupert Murdoch, 81. Nor is Zuckerberg alone among his social media peers in losing cash this year. Mark Pincus, the founder of Zynga – the gaming firm behind Words With Friends and Draw Something – has also been burnt, as investors found the games to be less addictive than they first thought. Zynga's shares have fallen more than 66% since their debut last December. Pincus made his debut in the list last year and is out this year.
The youngest man on the list, Facebook's Dustin Moskovitz, 28, and the oldest, David Rockefeller Sr, 97, shared 151st position with fortunes of $2.7bn. Also in at 151 was
Oprah Winfrey
.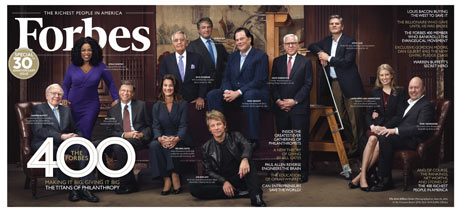 Forbes managed to cajole $126bn worth of billionaire to pose for its latest cover celebrating their philanthropy. Gates, Buffett, Winfrey are all there. And Jon Bon Jovi. He's not on the list, but a video explains – sort of – that he's there because he gives a lot to charity...More at
forbes.com
tell a friend to tell a friend....
click share (fb or twitter) if you think others deserve to know this...
Please, you can click on
FACEBOOK PAGE
to like us or click the facebook like button to your top right
let's read your comments below